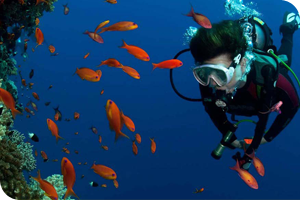 Improve your diving technique from  320 euros
PADI's Advanced Open Water, is the most practical course, where you will learn some techniques to improve and to make you able to dive deeper, as well as, new conditions, like for example, night diving.
More info at hola@superdivetossa.com or call us at 972 341 741
Timing and course program
You can do this course in 2-3 days
5 theoretical modules
5 specialty dives
Requirements
Minimum age 12 years' old
OW certification or equivalent
Medical certificate where it shows that you are currently SUITABLE to dive and less than 2 years' expiration date
Diving insurance (if you don't have it you can get it here)
DNI/NIE photocopy
Material
Instructional kit and course's book
Diving Equipment
Loan Compass and light for the practices you need it.
PADI certification
Certification
You will get an official PADI certification, recognized around the world, that will allow you to dive on a maximum depth of 40 metres.