PADI Assistant Instructor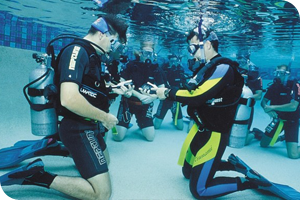 One more step and you will start teaching other people!
As PADI Assistant Instructor, you won't only get additional experience as PADI professional, you will start teaching in the PADI System, for the diver's trainings. You can work as assistant during the diver's training and assume some limited teaching responsibilities.
More info at hola@superdivetossa.com or call us at 972 341 741
Timing and course program
A week (intensive way)
Knowledge development
Tech review and open waters' workshops
Theoretical modules
Requirements
Minimum age 18 years
Medical certificate where it shows that you are currently suitable to dive and less than 2 years expiration date
Divemaster PADI or equivalent is mandatory, and EFR with less than 24 months.
Diving insurance and civil liability (if you don't have it you can get it here)
60 dives and be certificated for more than 6 months.
DNI/NIE photocopy
License-sized photo
Material
Instructional kit with the book's course
It doesn't include PADI taxes
PADI certification
Certification
You will be given the official PADI Instructor's Assistant.