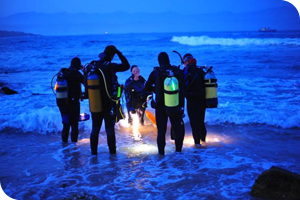 Learn to dive at night from 180 euros
Diving at night on a place where you had dived at the day, is the best way to start in this world that it opens to you with the night diving. Is the best way with your own eyes that "during night all is different"
Although you have seen this reef other times, with the night diving, you will enter in a world completely new and different. With the PADI night diving course, you will learn about the planning, equipment and navigation applied to the night diving.
More info at hola@superdivetossa.com or call us at 972 341 741
Timing and course program
You will need minimum 2 days
Theoretical modules
2 night diving's
Requirements
Minimum age 12 years old
OW PADI certification or equivalent
Medical certificate where it shows that you are currently suitable to dive and less than 2 years expiration date
Diving insurance (if you don't have it you can get it here)
DNI / NIE photocopy
License-sized photo
Material
Instructional kit and course's book
Logbook
Loan of Light and chemical light for the dives
PADI certification
Certification
You will get an official PADI certification recognized around the world, that will allow you to dive at night.