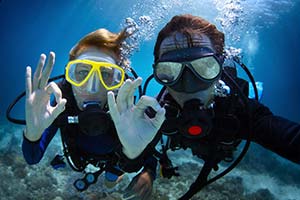 Your first diving experience from 55 euros
Discover scuba-diving, it is an initiation in the underwater world. It is based on a dive, with the diving equipment, on a maximum depth of 10 metres. You will be accompanied and supervised by an instructor in a controlled environment. In this way, controlled and relaxing, you will experience new sensations like breathing underwater for the first time and you will feel gravity as an astronaut! Try dive, is an activity which you can perform alone, in pairs or with your group of friends, colleagues or relatives. Spend a day with your friends or meet new ones! You will see the amazing sea life that Tossa de Mar has.
More info at hola@superdivetossa.com or call us on the 972 341 741
If you know the specific date of the Try Dive:
Click on "Book with date" and you will be able to select the day, time and number of participants on the calendar.
If you want to decide later the date of Try Dive:

Click the "Book without date" button directly and then you can select the number of people.
If you want to give a try dive:
Giving a Try Dive, click on "Give Try Dive" and fill in the information and you will receive an email with the gift voucher
Course Duration and Program
This activity takes 3 hours aprox
Theoretical module
Try dive
Minimum age 8 years old.
Know how to swim
Don't have breathing, heart, or ear problems. (If you have any of these problems, you have to bring us a medical certificate saying that you are SUITABLE to perform the activity.)
Don't be pregnant.
Don't fly in a plane on the next 12 hours after doing the try dive.
Equipment required for the activity
Theoretical session
Lots of fun
Activity supervised EXCLUSIVELY by PADI instructors with EXPERIENCE.
Bring flip-flops, swimsuit, bath towel and wish to have a lot of fun.
We do try dives, every day of the year.
Diving is easy, safe, and with us, SUPERFUN!